Welcome to York Windows and Doors
York Windows & Doors specializes in the highest quality window and door replacements and installations in Saskatoon, Saskatchewan, and surrounding areas. With a company history of framing in luxury homes, York is dedicated to a high level of standard, carrying the highest quality product, fiberglass windows and doors from DUXTON Windows & Doors.
York is a family-owned and operated business by husband and wife team Rene Corriveau and Lisa Craig.

"We have built up our reputation in Saskatoon over the years based on loyal partnerships, a focus on quality, and having some fun while we're at it! We look forward to the opportunity of working with you."
---
Window & Door Replacements
Evaluate
Classic reasons to take on a window replacement include rotting or tired-looking frames, outdated styles, cloudy glass, leaky seals, and poor energy efficiency. Once you've decided to make a change, it helps to consider your top priorities in new windows and doors.
Durability: Is this a long- or short-term investment? What is the impact on the re-sale value?
Energy efficiency: How important is comfort or conserving energy?
Colour: Will a certain colour, inside or out, make all the difference in the look?
Design: Do you want more or less divisions in the glass? Fewer divisions give you a bigger view, while more divisions can give you more character.
Historical: Do you have historical features you want to keep, such as interior trim?
Features: Do you have a feature window or entry door that needs special attention and design?
---
Personalize
Once you have a sense of your priorities, you can think about the specific details. DUXTON Windows & Doors are uniquely manufactured using proprietary fiberglass frames, that enable you to have a huge amount of colour, sizing, and design flexibility.
Interior colour: What is staying, and what is going? Is the whole house going to get repainted in a more modern colour palette, and you want the industrial look of black windows? Or do you want to keep it simple with a white interior? Do you have wood trim that would be complemented with a tonal colour such as Espresso?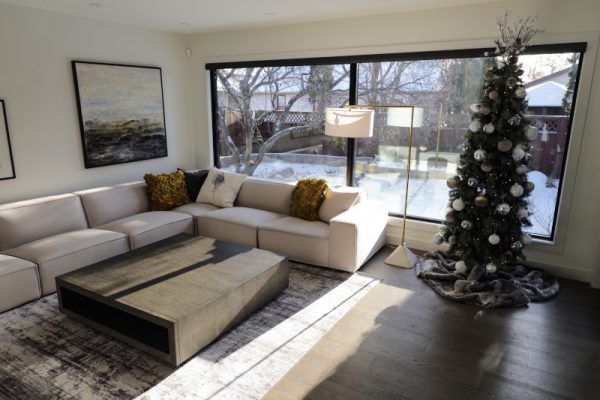 Interior trim: Do you have a classic wood trim you would like to keep? Or do you want to strip it all off and go with a very simple, flat casing around the windows? Conversely, if you are doing a major renovation that involves new drywall, you can take advantage of a very clean and modern look, finishing the drywall right up to the windows, with no need for any trim.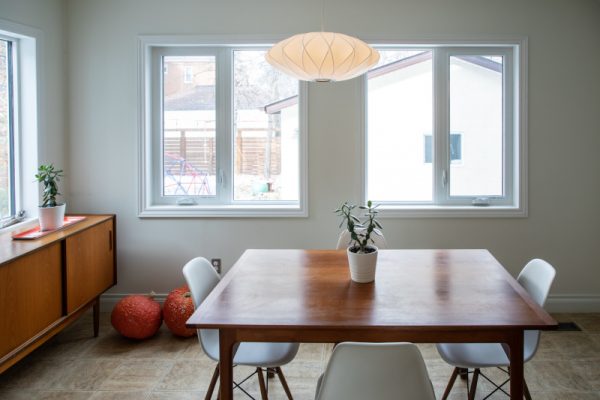 Exterior colour: What is staying, and what is going? Espresso, or even a custom colour match is fairly common when the windows need to match the original colour, so they look fresh but not out-of-place. For an update, black is very popular in modern and traditional homes alike.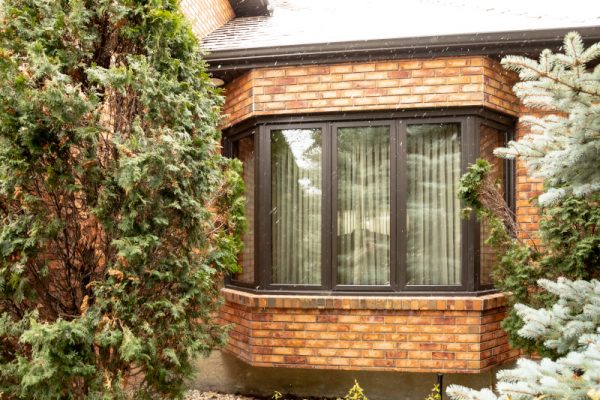 Glass: In our northern climate, it is very common to select a Triple Pane Low-E Argon insulating glass unit. Your dealer can offer excellent advice when it comes to tailoring that Low-E coating: is there a west-facing room that always gets too hot? Or a south-facing window that could help heat the home through the winter? A very slight adjustment in the glass make-up can have a huge impact on year-round comfort.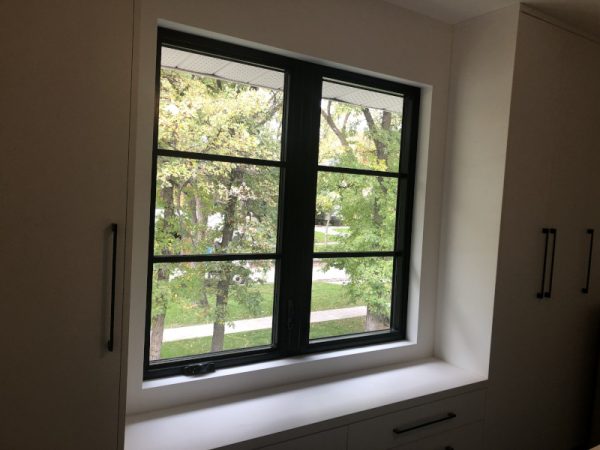 Grills: You can add major architectural interest with Internal Grills (IGs) in between the glass, or Simulated Divided Lites (SDLs) for the most impact. Traditional styles create tall, narrow boxes, while contemporary styles create more horizontal divisions.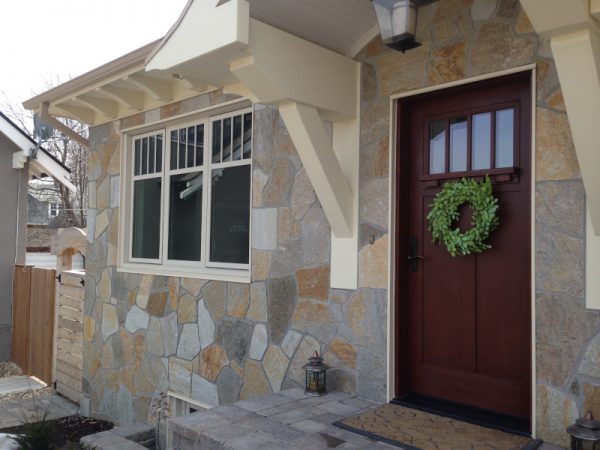 Sizing changes: Do you want to enlarge any openings? In many cases, the window can be enlarged quite easily, allowing you to get a big beautiful view above the kitchen sink, connect multiple openings facing the yard, or brighten up a dark bedroom.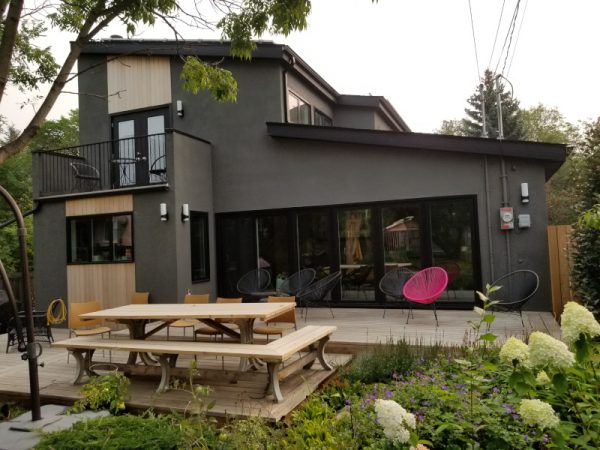 Code requirements: It is important to have windows installed that are up to date in code requirements. Your local dealer will be familiar with what is required for egress, in the event that you needed to use exit the bedroom window in an emergency.
Selecting the brand and installer are the last key steps in the process. Some important questions you may want to ask are:
What is the warranty you offer? How long have you been in business? Both questions are important together, as the company needs to be in business to provide warranty and service support.
Are your windows tested and code compliant? Are they Energy Star certified?
DUXTON is proudly NFRC certified, Energy Star certified, NAFS tested, and even Living Building Challenge certified. We offer a 20 year limited warranty on the windows, stand behind our warranty, and choose to partner with the best and most experienced installers in each major city.
---
Consult
When it comes to installation, you may wonder about doing the work yourself, or hiring a professional. By selecting a trusted installer that specializes in window and door renovations, you are ensuring:
You have an expert guiding you through the options available, for aesthetics and performance
Precise measurements of the openings, with products custom made to fit
Careful removal of old products to avoid damage to stucco, plaster, etc.
The installation details are appropriate for your home's construction
The products will be sealed, shimmed and insulated properly
Square installation for smooth operation of windows and doors
Quicker installation and completion of the project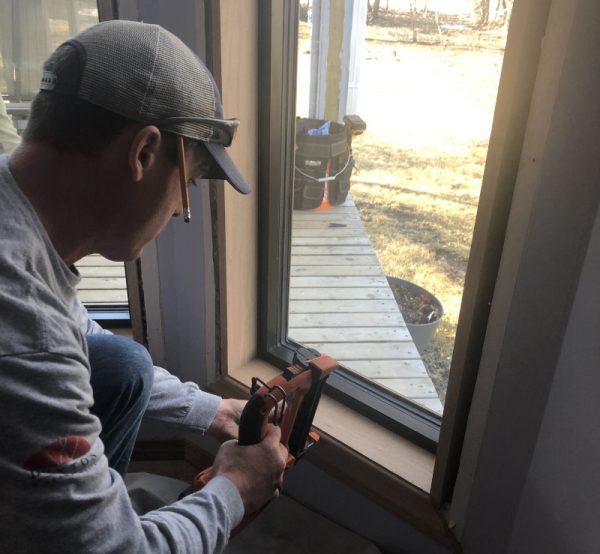 A typical renovation project usually includes these steps:
In-home consultation to review windows and doors in need of replacement
Discussion of product needs and options
Taking measurements
Returning a full estimate to the client
Upon approval of the estimate and receipt of deposit, taking final measurements
Manufacturing the order (lead times 6-8 weeks for many products)
Scheduling the installation
Protecting home contents prior to beginning work
Removal and disposal of old product
Installing new product
After-sales support as required
---
Before & Afters